Flexible Solutions for Your Shower Project
Commercial shower pans offer maximum flexibility when paired with your chosen wall materials and accessories. We provide shower pans that meet ADA requirements for healthcare care and senior living settings. Choose a modern style with our trench drain options for water containment when a barrier free shower is desired. A wide range of accessible pans are also available, featuring low thresholds that are excellent for replacing a traditional bathtub. You will find a safe shower solution to serve you for years.
Browse Featured Commercial Shower Pans
Commercial Shower Pan Threshold Types
Barrier free thresholds provide full accessibility and are ideal for those with mobility issues or wheelchairs.
Low threshold shower pans, a universal design option, provide easy access for those individuals who may have difficulty stepping over a traditional threshold.
Why Choose Hamilton Commercial Shower Pans?
Smart Design
With multiple sizes, drain locations and threshold options, we have a design for you. Built-in integral tiling flanges are a smart feature that prevent water migration.
Quality Construction
Our shower pans are built strong with no-flex bottoms using quality materials and are available in three finish options that will stand the test of time.
Easy Installation
Most of our pans are pre-leveled and ready to install, cutting down your installation time to keep your project moving right along.
Warranty
Our products have some of the best warranties in the industry. Models constructed from AcrylX™ or CenturyStone™ solid surface carry a thirty (30) year Commercial warranty and a lifetime limited Residential warranty.
Accessible or ADA Compliant
Whether your installation requirements call for ADA compliancy or you are simply looking for a low threshold option for a safer shower experience, we have what you need.
Commercial Shower Pan Features
Double Entry Shower Pans
Double entry shower pans can be installed in a corner, making them a practical solution for smaller spaces.
Integral Linear Wall-to-Wall Trench Drain
Our integral linear trench drain shower pans effectively contain the water in the shower without barriers for a smart and stylish solution with a magnetic attachment that gives you easy access to the drain.
Textured Floor
Select shower pan models come with a textured non-slip floor designed to add extra safety when showering.
EasyBase™
Models that feature EasyBase™ are a contractor-friendly option featuring a pre-leveled base and minimum use of mud, reducing installation time by 50%.
Upgrade to CenturyStone™, Our Seamless Solid Surface Material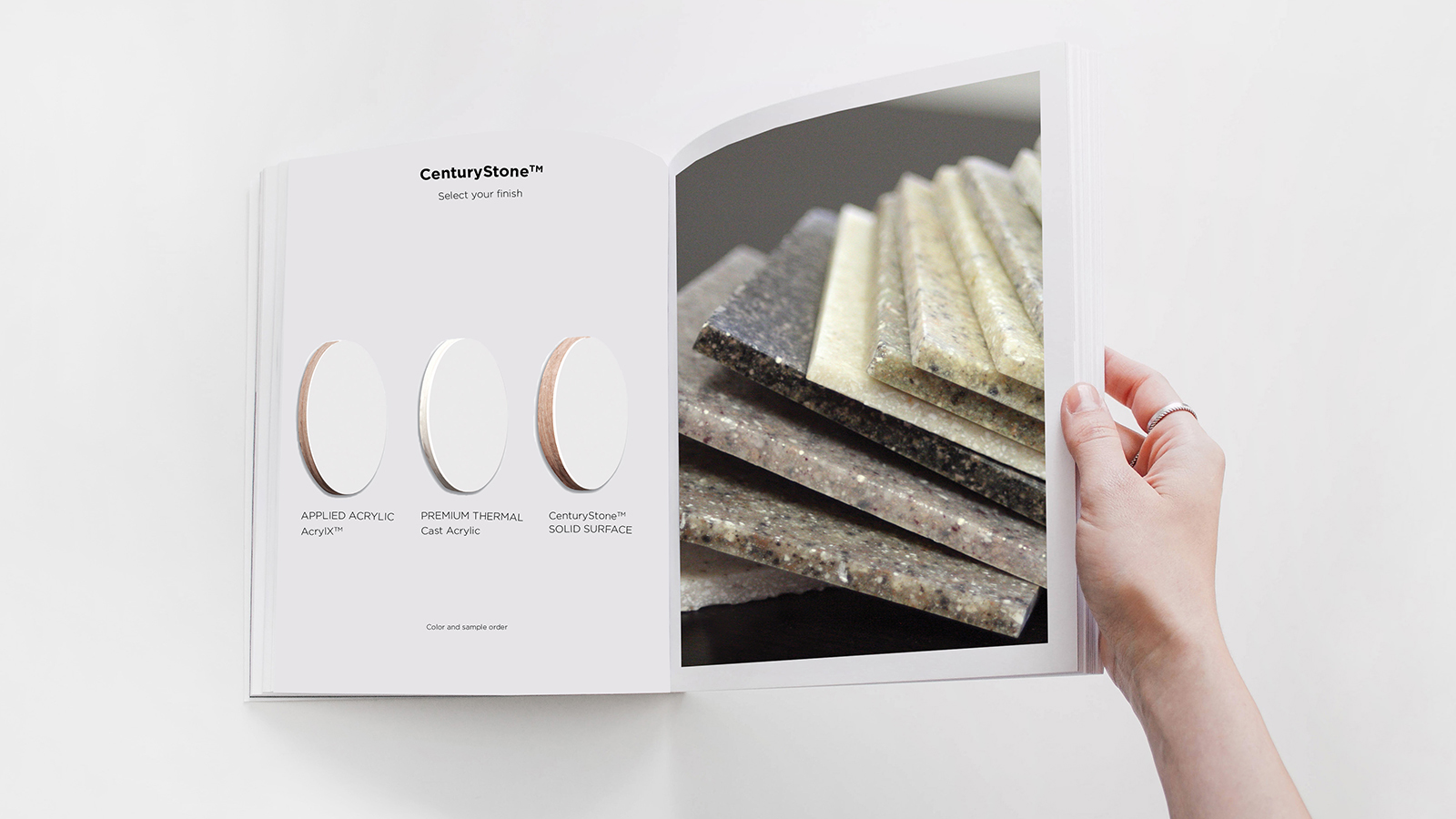 The perfect complement to any design.
CenturyStone™ solid surface finishes are offered in white, bone or biscuit to compliment any interior design scheme. CenturyStone™ solid surface goes one step beyond and is offered in granite NATURALS seamless simulated soild surface finishes. Solid surface shower bases are beautifully designed in CenturyStone™ solid surface, and are the perfect compliment for tile or marble.
Explore our Colors and Finishes